High radiant efficiency - high emissivity plaques with re-radiation gauze
Heat output: 3.0 kW - 30 kW
Natural gas or propane
High temperature aluminium reflector - increases emissivity
Vitreous steel burner - does not rust or corrode - gives longer life
Lightweight - makes it easy to install and maintain - can be suspended from pipework
Infrared heat - gives instant directional heat / low running costs
Overhead or wall mounted - gain extra floor space
Permanent pilot
Silent operation - can even be used in churches
Fitted with a thermo-electric fail-safe device to protect against gas supply failure
CE approved
Automatic Radiant Space Heaters

Unlike most other forms of heating, Infraglo's radiant overhead heaters provide almost instant heat; within 2 minutes the heaters have attained a radiant face temperature of approx. 950°C. There is no other form of heating so controllable. The heaters can be turned off as quickly as they are turned on by either manual control, thermostat or time switch so the wastage of fuel is kept to an absolute minimum.
Infraglo's 700 series space heaters are fully automatic in operation having spark ignition and flame monitoring. In the event of flame failure, lockout of the appliance will ensure complete safety; the unit can be reset by interrupting the mains supply. The heaters lend themselves to control by time clock, thermostats or energy management systems. Our heaters are the safest on the market.
Ideal for workshops and factories, our heaters provide instant heat with minimal loss only where you need it. The heaters are silent and do not move dust particles around the air.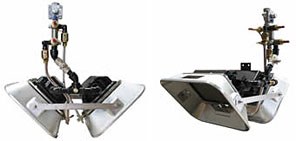 Recommended for commercial and industrial applications where full or localised heating is required. From the smallest factory to the largest, the capital cost of many new radiant systems can be recovered in 12 months or less, by the savings in fuel costs that are achieved; in other cases up to 90% have been achieved by some of our customers with the introduction of 'spot heating' i.e. by heating only small areas in large workshops where staff are working.
page last updated: 17/11/2022